Ilograph Summer 2021 Update
It's been a busy 2021 so far for Ilograph. Many key features have recently been released with more still to come. Here's a summary of what's new and what's next for Ilograph in 2021!
What's New
Ilograph Desktop
Released earlier this year, Ilograph Desktop delivers all the power of Ilograph in a local environment. Ilograph Desktop is perfect for organizations and individuals that want total control of their diagrams and/or wish to use Ilograph without internet access or behind firewalls. Ilograph Desktop is available for Mac, Windows, and Linux; it can be downloaded here.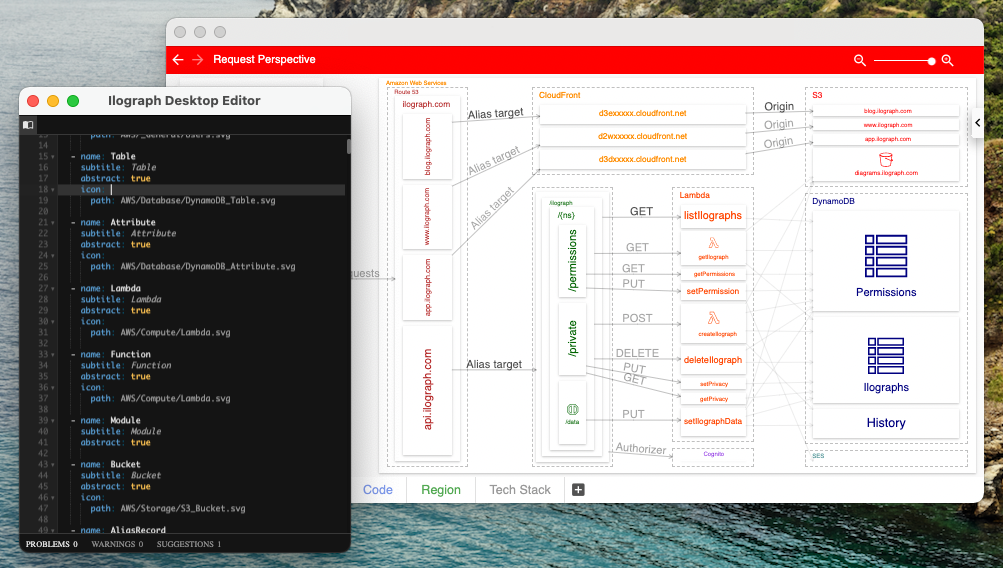 Custom Icons
Ilograph has long supported built-in cloud icons, and now you can use your own custom icons in diagrams. Icons can be uploaded to your team icon library (Ilograph Web) or referenced directly from your file system (Ilograph Desktop). Learn more about using your own icons with Ilograph.
Imports
Ever wanted to import parts of one Ilograph diagram into another? I ask because I care, and also because this is now possible! Ilograph now supports importing resources and perspectives from other diagrams. Imports are a great new way to organize your diagrams. Learn more about imports.
AWS Standard Library
In addition to importing from your own diagrams, you can now import AWS resource types from Ilograph's built-in AWS standard library. This greatly cuts down on boilerplate when diagramming AWS solutions. This sample diagram shows the Ilograph AWS standard library in use. Want to add to the AWS standard library or even create a new library for your favorite platform? Contribute to the Ilograph standard library repo on GitHub.
Autocomplete Preview
While editing, autocomplete entries will now show a preview in the diagram itself:
Autocomplete preview is supported for almost all autocompletions.
HTML Export (Desktop Only)
You can now export Ilograph diagrams to HTML files. These diagram files are 100% standalone (including icons) and can be opened on every modern browser. You can even select which perspectives to export; just click "Export…" from the File menu to get started. Share away!
Other Features
Ilograph has seen a number of other smaller improvements, including sequence diagram enhancements, multi-extendable perspectives, key-value resource descriptions, and more. Want to know about about new features as they're released? Follow me on Twitter to get all Ilograph updates as they happen.
What's next
The focus of the rest of 2021 will be on integrations with other services, including Confluence Cloud. The full Ilograph roadmap can be viewed here. Have something you'd like to see added to Ilograph? Email me at billy@ilograph.com or message me @ilographs on Twitter.
Share this article on Facebook